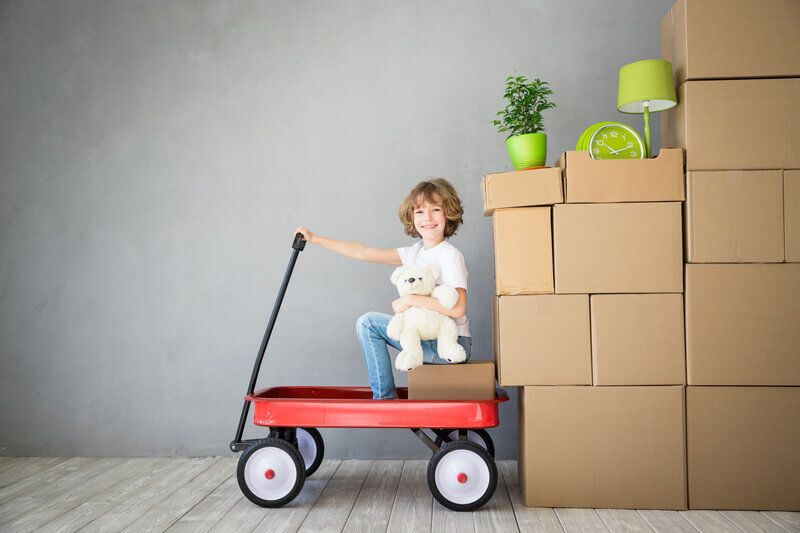 Moving long distances can be a massive headache. To avoid any issues, use these 15 long-distance moving tips direct from the moving pros to ensure that you and your belongings get safely from point A to B.
#1 – Plan Ahead
While planning a long-distance move in advance seems like a no-brainer, many don't allow enough time. Long-distance moves should be planned a minimum of 2 to 3 months in advance. Plans should include:
When you want to move
Types of moving services you'll need
Getting quotes from long-distance movers
Changeovers of utilities like water, power, and gas.
Handle cancellation of subscriptions (i.e., magazine, telephone, etc.)
Choosing new schools, healthcare and veterinary services
Transferring insurance
Planning in advance will not only help you avoid last-minute stress, but you'll get the best rates from professional long-distance movers.
#2 – Make a Moving Checklist
Make a moving checklist of everything that needs to be done before your move, and make sure to cross off every item as it is completed. This will help ensure nothing is missed or forgotten about.
#3 – Start Getting Rid of Stuff You Don't Need
One of the best ways to ensure a fast and affordable long-distance moving process is to start getting rid of stuff you don't need well in advance of your move. The fewer items you have, the less a moving service will charge. Additionally, less stuff means less time to load and unload the moving truck making it cheaper for labor costs and overall time spent on the move.
#4 – Pack As Much As Possible Yourself
While there are services that will pack items for you, it can save you a lot of money packing items yourself. You can even make an event out of it with friends and family so that the packing process goes a whole lot faster.
#5 – Start Collecting Packing Supplies As Soon As Possible
Peak moving season during the summer months means that the availability of packing supplies can be limited. To avoid not having the materials you need to keep your belongings safe during a move, it is essential to start sourcing packing supplies as soon as possible.
#6 – Find Out if Your New Place Will Be Ready in Time
To ensure that your belongings don't get stuck on the curb, it is essential to verify whether your new place will be ready to move in when you are. If not, it will be necessary to organize storage until your new residence is available and all of your belongings can be moved in.
#7 – Don't Over-Pack Boxes
It is important when packing your belongings not to over-pack items into boxes. Whether it's shoving tons of clothes into wardrobe boxes, or packing every single book into a small box, don't do it. Over-packed boxes are more likely to break during the move and cause damage to the times they are intended to protect.
#8 – Label Boxes Properly
It is also important to properly label boxes. Labeling will help movers load in boxes accordingly so that heavy items are placed on top of delicate belongings. It also helps when unloading so you and the movers know which boxes go where in your new residence.
#9 – Get Necessary Permits
Some cities require special permits to park large vehicles and moving equipment on the street. It is vital to look up the local regulations in the location you are moving to understand if any additional licenses or permits are needed during your moving process. Failure to procure the permits in advance could result in excess fines from the city or Home Owners Association.
#10 – Cut Costs When Possible
Saving money where possible is always a good idea – especially during a long-distance move. Whether it's sourcing recycled packing materials or handling the loading and unloading on your own, there are a bunch of ways to save on overall costs and stay within your long-distance moving budget.
#11 – Leave It To The Professionals
It's a good idea to leave the heavy-duty stuff to the professionals. This includes dismantling furniture and heavy appliances, loading and unloading all the furniture, boxes and other items, and transportation to your new location.
#12 – Get Moving Insurance
Protecting your valuables during a move doesn't stop with sturdy boxes and reliable packing materials. It is also important to consider getting insurance that covers the cost of your belongings should an accident happen to the moving truck while in transit.
#13 – Consider Moving During the Off-Season
The peak moving season lasts from early summer to late fall. During this time, prices are higher to move. If you are looking to save money while moving, organizing your trip during the off-season between these peak months is recommended. Additionally, if you can not plan your trip for the off-season, consider moving during the week rather than on the weekend when many rates for moving companies and equipment are much lower.
#14 – Triple Check Everything
Being prepared and organized is essential when moving long-distance. It is important to go through every step of the process and triple-check all details before your move begins, as it is happening, and once your belongings arrive at the destination. Doing so will ensure that your move runs as smoothly as possible and you do not have any issues along the way.
#15 – Review Your Moving Service
Don't forget to review your moving service online so that others can benefit from your moving experience. Be sure to include whether they were on time, professional, careful, and more. The more information you include, the better your review will be and the more helpful to other future moving customers.
Frequently Asked Questions
While DIY moves can be made, the overall cost of time and money can be about the same when you consider additional fees for gas, insurance, accommodation, food, and hired moving labor help. All in all, it is recommended to hire a long-distance moving service to help with some or all of the process.
The majority of moving services consider any move that is 100 miles or more from the starting location a long-distance move. Once a move is deemed long-distance, fees and rates will vary and may be more expensive than a local move.
It is generally recommended to start packing away smaller, lighter things first to clear space for the dismantling and moving of larger items such as beds, refrigerators, and other bulky items.
Make Your Long-Distance Move Hassle-Free
By following these 15 essential long-distance moving tips, you'll be able to make your long-distance move hassle-free. Don't forget to shop around for several moving quotes and plan your move a few months in advance to get the best pricing and ensure that you can find all of the packing materials you need.